Greek islands with the most beachfront hotels: Crete, Corfu and Rhodes top the list
June 3, 2016 by Travelmyth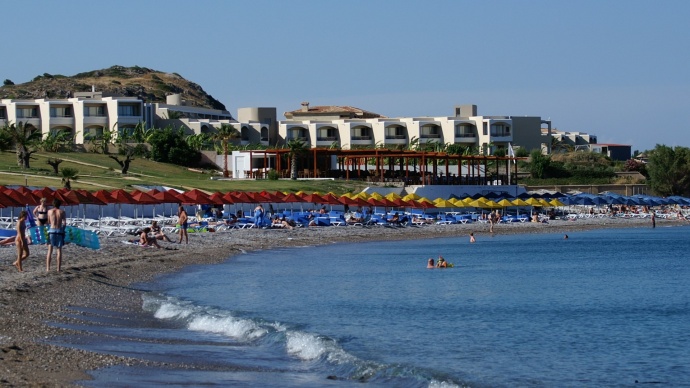 Photo from Wikimedia Commons
Greek summer is famous for Greece's beaches and the best beachfront hotels await to welcome you. The numbers speak for themselves: 2.683 hotels are set right on the best beaches all over Greece, with the majority located on the Greek islands.
The research of the hotel search engine Travelmyth has nominated Crete as number 1 beachfront hotel destination, with 568 properties being placed just a breath away from the sea. Among these, 203 hotels are located in the prefecture of Chania, 133 in Heraklion, 124 in Rethymnon and 108 in Lassithi.
Corfu takes the second place with 193 beachfront hotels all over the island. In Cavos alone you'll find 18 and in Paleokastritsa 14 beachfront hotels.
Rhodes, the island of the mythical Colossus, completes the top 3 with 181 beachfront hotels, among which 28 are located at the seafront of Faliraki.
The top 10 islands with beachfront hotels in Greece continue with:
Naxos: 116 beachfront hotels
Santorini: 91 beachfront hotels
Zakynthos: 79 beachfront hotels
Kefalonia: 75 beachfront hotels
Thassos: 68 beachfront hotels
Evia (Euboea): 57 beachfront hotels
Paros: 56 beachfront hotels
This specific category of hotels is defined by its immediate proximity to a beach. Beachfront hotels may be separated from the beach by a road, but not by other buildings in between, while the beach has to be directly accessible from the hotel. The research was conducted with all hotels that are listed in at least one of the biggest online booking sites.
A few words about Travelmyth
Travelmyth is a specialized hotel search engine, suggesting the best hotels according to specific criteria of its users. Based on their interests, users can choose among 47 categories, including beachfront, boutique, pet-friendly and family-friendly hotels, while the search may optionally be restricted to a specific region or city destination. Having listed more than 900.000 hotels all over the world, Travelmyth has developed an algorithm that ranks the properties in a way that lets its users discover the best hotels based on their chosen criteria. Users can then enter the desired travel dates and compare prices on booking websites, including Booking, Hotels.com, Expedia and more. To complete the booking, visitors are transferred to the booking site of their choice.