Top 10 dog friendly hotels in Cornwall UK
June 7, 2016 by Travelmyth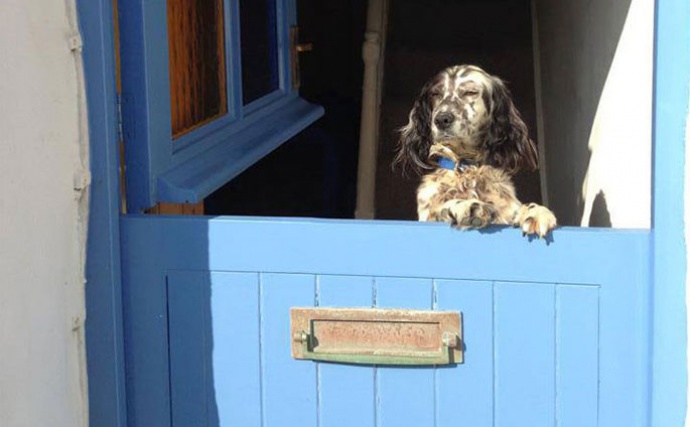 If you're a dog owner, you know the frustration that comes along with planning your desperately needed holidays. Your dog belongs to your family, so there's no question whether or not you should take him with you. You both need a change of scenery. With Travelmyth, the rest becomes easy, as we have listed the most dog-friendly hotels in the UK that will pamper your four-legged friend just as you. Cornwall is a true dog paradise with endless beaches, coast paths, rocky woodlands and charming towns to discover. Here are our top 10 picks for dog-friendly hotels and holiday houses in Cornwall.
Woodlands Country House
Woodland Country House is an excellent base for your holiday with your dog. The luxuriously furnished holiday house is surrounded by lush farmlands while Padstow harbour and the coastal path is only a 15-minute walk away. The house's spacious space provides the ideal setting for a truly relaxing atmosphere while all basic dog amenities such as towels, blankets and bowls are provided. In case you'd like to enjoy a bit of alone-time, sitters can be booked as well. There's no need to inform the staff about your dog's arrival, however only up to 2 dogs per room are allowed at an extra fee of £10 per booking. As in most dog-friendly holiday properties, only clean, flea-free and non-aggressive dogs are welcomed.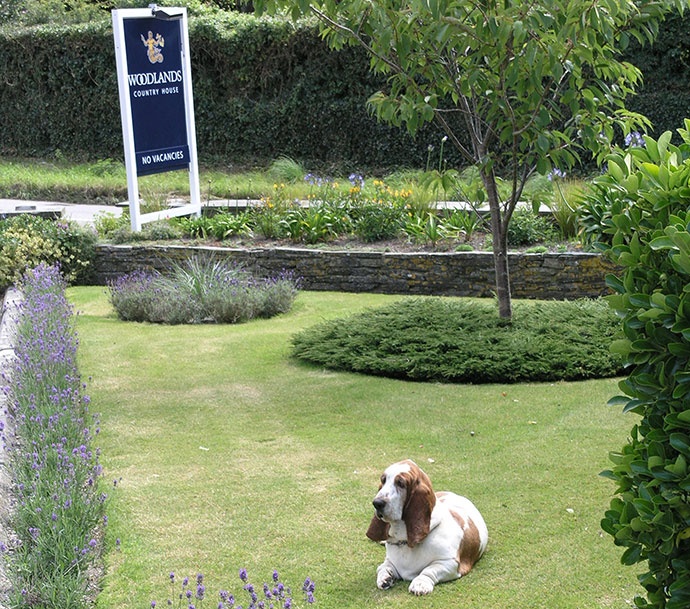 Merchant House
Located in the heart of Truro city, this modern, fully-equipped holiday house leaves none of your desires unfulfilled. You can bring up to 3 dogs per room at no additional cost. Special sheets for beds and furniture are provided to let your pooch freely enjoy all amenities. Food and water bowls as well as towels and waste disposal bags are also included in your welcome-kit. Just make sure to inform the staff about the additional guest during the booking process. If your dog is clean, has no fleas and gets along well with other people and dogs, nothing should stand in the way of an unforgettable time-out here in one of Cornwall's most popular and charming towns.

White Hart Inn
This traditional 3-star inn is located in the lively city of Bodmin, close to the famous Beacon Hill Obelisk and the Camel Valley Vineyards. The area invites you and your dog to long walks in nature and panoramic views, while your stay at White Hart lets you experience the authentic charm of the small Cornish town. You can bring up to 2 dogs per room at no additional fee and without previous notice, given that the dogs are clean and non-aggressive. As in all dog-friendly holiday houses, you as the owner are responsible for any possible damage. In this house, you can enjoy plenty of cuddle-time with your beloved animal friend, as special sheets for beds and furniture are provided. Additional blankets and towels are also included in your dog-kit to make your pooch feel at home.

Whipsiderry Hotel
Located right at the northern coast of Cornwall in Newquay, Whipsiderry hotel definitely offers everything you and your dog may desire. Up to 2 dogs are welcomed per room at no extra charge upon previous notice during the booking process. The hotel provides bright rooms with sea-view and spacious green areas where your dog can freely play and enjoy himself. In case you need some alone-time, you can relax by the pool or enjoy the hotel's premium cuisine on a six-course dinner, while the staff is taking care of your beloved pooch. You can book a special walking service for £9 and a total dog care package for £15. This hotel definitely loves dogs and will for sure become one of your favourite holiday picks, too.

Karma St. Martin's
Karma St. Martin's is a very special dog-friendly pick. Just 40m from sandy St. Martin beach with crystal clear waters and surrounded by fresh green gardens and fields, this hotel lets you completely plug off from the daily grey. While you can get pampered in the spa and take off to a culinary journey in the hotel's restaurant and bar, your dog will enjoy the all-inclusive experience just as you. The hotel offers a dog-kit with towels, blankets, food and water bowls as well as an extra space to sleep. With special sheets, your four-legged friend may even join you on your bed and other furniture, while extra leash-free areas provide the needed freedom to run, play and fool around. Of course, your dog should be well-behaved and not have fleas. The additional booking fee is £10 per night and you should inform the hotel about your dog's arrival at booking.

Sea View House
Only 1km away from beautiful Fistral Beach, this dog-friendly holiday house is an ideal spot to enjoy a time-out at the seaside. The spacious, bright and fully-equipped house in Newquay city provides plenty of space for you and your dog, including a terrace with a breath-taking view over Cornwall's northern coastline. If your dog is clean, has no fleas and gets along well with other guests, you can be sure of a very warm welcome. Simply inform the hotel staff at the time of booking. All the basics, including towels, food bowls and waste disposal bags are provided while there's no additional cost for your dog. As the location has endless trails, nature paths and beaches to discover, you won't mind too much that the house doesn't offer any additional leash-free play areas. Mind that your dog is not allowed on beds, while special sheets for other furniture are provided.

Meudon Hotel
Meudon is a true insider-tip for your next holiday with your dog. 3km from the coastal city of Falmouth and surrounded by over 8 acres of blooming gardens, the hotel is connected to its own private beach, providing you plenty of space to enjoy free play time with your dog. Your welcome-package includes waste bags and food and water bowls, while your four-legged friend may freely join you on your bed and furniture with the use of special sheets. Note that there is an extra fee of £12 per night and dogs are only allowed in the designated areas. However, the picturesque area offers endless paths and free space to explore in the lush countryside. Remember to inform the hotel about your dog's arrival at booking.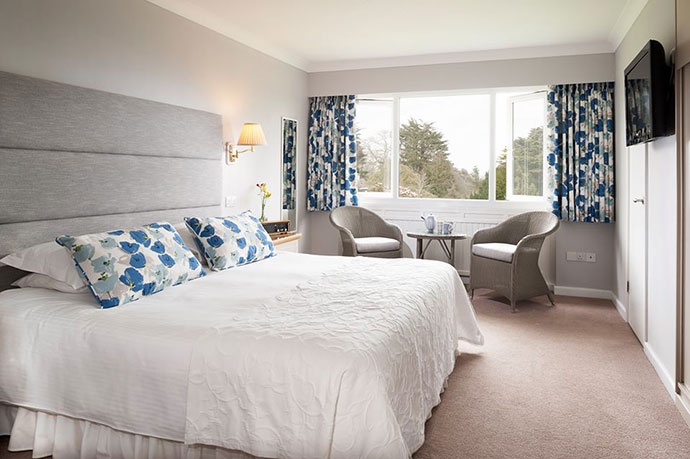 Gallen-Treath Guest House
This bed and breakfast holiday house with sea-view is located at the southern Cornish coast in Porthallow. Only 2 minutes away from the coastal path, the spot is ideal to relax and enjoy the sea breeze on long walks with your dog. While there is an extra fee, you'll be welcomed with a special gift basket and dog blankets. Mind that only clean, well-behaved dogs without fleas are accepted. Make sure to inform the hotel staff about their additional animal guest during booking, and don't forget to bring a documentation of your dog's current vaccinations. Unfortunately, your pooch is not allowed on beds and furniture and mustn't use the bathtub. The hotel offers leash-free areas for free run and play, which makes up for these minor restrictions. All in all, an excellent choice for an affordable dog-friendly holiday by the sea.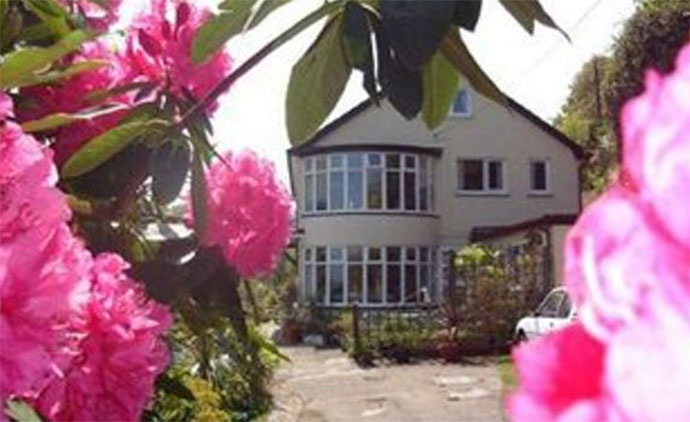 Jowders Cottage
Located between St Michael's Mount and the dog-friendly beaches of Marazion area, Jowders Cottage offers a traditional and friendly atmosphere. The house only welcomes clean, non-aggressive dogs at an additional fee of £20 per booking upon previous notice. While leash-free play areas are provided, your four-legged friend is not allowed to hop on beds and furniture. However, the house is fully equipped to make you and your dog feel at home. The coastal location provides just the right setting to unwind and let go of any daily stress, which both you and your dog will greatly benefit from. A very recommendable pick for an easy-going time-out with your pooch.

Blue Monkey Cornwall
If you and your dog are up for some luxury, than Blue Monkey is for you. Situated in Cawsand at the east-southern coast, the extravagant holiday home features a bright, modern design with coastal charm and rustic elements. The location is surrounded by endless sandy beaches, dunes and lush forests, giving you unlimited possibility to walk, explore and play. It's an ideal choice for your family or group of friends to enjoy some cosy time by the house's fireplace and spacious in- and outside areas. Your dog is welcomed to join at an additional fee of 75£ per booking, given that you inform the staff before your arrival. Note that there is a refundable deposit of 500£ to guard against possible damages caused by your dog. Of course, your four-legged friend should be well-behaved, clean and not have fleas. Note that your dog is not allowed to jump on beds and furniture, neither to use the bathtub. Nonetheless, it's one of the most beautiful spots to spend a truly relaxing dog- and family-friendly seaside holiday.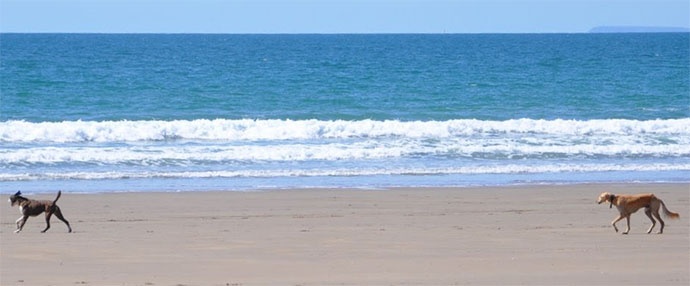 Got inspired? Look out for more dog-friendly hotels in Cornwall in our search engine and freely combine your search with any other category or specific location you desire. For more information regarding the hotels' dog policies, simply use the "show more details" function in the dog-friendly tab at hotel descriptions in your search results.