Top 15 Dog-Friendly Hotels in Devon UK
March 9, 2016 by Travelmyth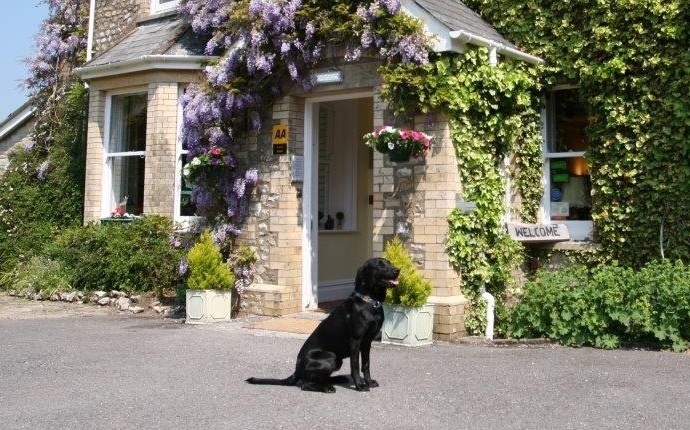 Planning a trip with your dog can be a bit daunting. But with a little help from Travelmyth, it can be easier than you first thought. Here are our 15 top picks for the best dog-friendly hotels in Devon which will welcome both you and your dog with open arms.
Elmfield
Elmfield is a fairly large house, originally built by a farmer for his personal use. The house is located in Northlew, making it ideally situated for walking in Dartmoor, and close to the River Tamar which leads into Cornwall. Thanks to the relaxed, friendly atmosphere, you're guaranteed to feel comfortable in this dog-friendly hotel. The owners allow up to three dogs per room free of charge and they also provide a place for them to sleep. Blankets, towels, dog sitters, food and water bowls are also supplied. Of course, to be welcomed here your dogs need to be well-behaved and clean with no fleas. What's more, your furry friend isn't allowed on the bed, but if you find it too hard to sleep without them by your side, you can pay a £5 fee to cover the additional laundry costs.

The Old Thatch Inn
Situated on the outskirts of Dartmoor National Park, this hotel really does have something for everyone. The owners are big dog fans, which are why canines are just as welcome as their human owners. However, they do ask that your dogs are well-behaved, clean and used to being around other dogs and owners. Dogs are allowed in all rooms free of charge and you will find a warm welcome for both you and your four-legged friends in front of their amazing double-sided log burner in winter and their sun-kissed beer garden in summer.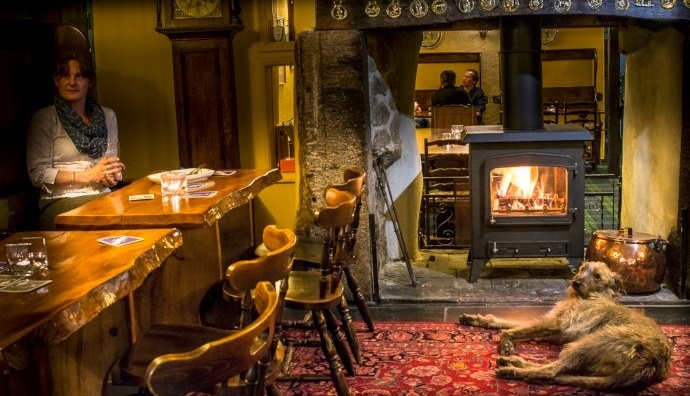 Dower House Hotel
Let's face it – your dog deserves a change of scenery just as much as you! The Dower House Hotel in Devon is situated in just 2 miles to the west Lyme Regis and offers ten comfortable and tastefully appointed rooms, all surrounded by rolling hills and open fields that will make your furry friend feel right at home. Whatever your interests are – whether walking, site-seeing, fishing, sunbathing or fossil-hunting – the Dower House will be your perfect base to explore the local area. The hotel welcomes dogs in specific rooms at an additional yet reasonable fee and it provides towels for them. Dogs are not allowed on the furniture or on the beds and they should not be left unsupervised in the room at any time. Remember to mention you'll be bringing your dog with you at the time of booking.

Fairwater Head Hotel
Known for its warm and friendly atmosphere, this hotel features sixteen en-suite rooms with views over its award-winning gardens. In the local area you'll find some fabulous walks and the amazing sandy beaches of Lyme Regis, making this hotel the perfect place for dogs to explore and enjoy themselves! Fairwater Head Hotel accepts dogs in all rooms free of charge and on arrival, your pampered pooch will be presented with a welcome biscuit.

Acorns Guest House
Situated in the heart of Combe Martin, this hotel offers seven well-appointed bedrooms, some of which come with beautiful sea views, and its owners, Denise and Steve, warmly welcome visitors of the canine variety. There are many dog walks in the local area which pass along the south-west coast or wind amongst the surrounding hills to the top of the village. Guests can also walk their dogs on Newbury beach which is just a three-minute walk away from the guest house. The hospitality of the guest house also extends into the village, with many nearby pubs and cafes also welcoming dogs. Combe Martin is located on the edge of Exmoor National Park, which is home to many naturally beautiful spots. You can also find several beaches nearby which allow dogs such as Woolacombe, Saunton Sands, Instow and Westward Ho! At Acorns Guest House, well-behaved dogs are accepted in specific rooms for the additional fee of £5 per night. Remember to mention that you will be bringing your dog with you when you book.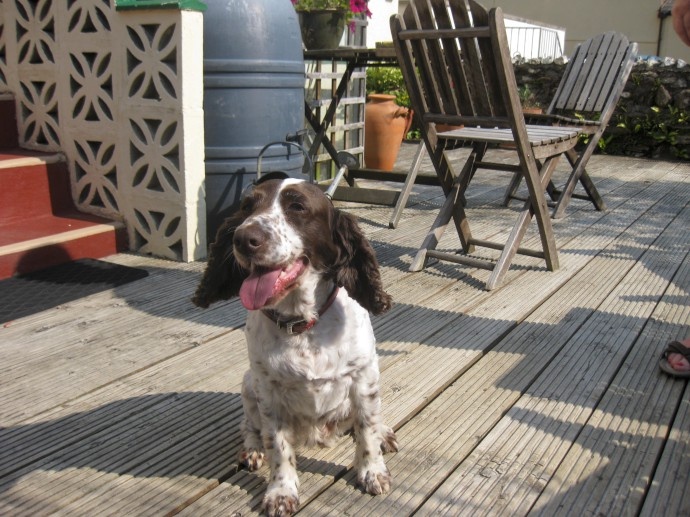 ANRÁN at Tidwell Farm
Anran @ Tidwell Farm is located in the stunning rural setting of Landscove, providing the perfect country escape for both you and your dog. The owners accept dogs in selected rooms at no extra charge, but you need to let them know at the time of booking. The dog-friendly rooms have special sheets for dogs and leash-free play areas, but only clean and well-behaved dogs will be permitted to stay. Anran @ Tidwell Farm's picturesque location will give dogs, children and adults plenty of opportunities to explore and have fun.

Fox & Hounds Country Hotel
Fox & Hounds Country Hotel is a really special place for families with dogs, offering a friendly and relaxed atmosphere sure to make everyone feel instantly at ease. As well as in the rooms, dogs are also welcome in the bar area (as long as they're on leads), but owners will be asked to leave their wellies by the door. Doggie essentials kits are available upon request, which come complete with waste bags, bowl, washing up liquid, spoon, mat and towels. Both the standard and superior rooms at this hotel are dog-friendly, although furry friends are not welcome in the breakfast and function rooms. You can bring as many dogs as you like with you, but there is a charge per dog, and you must let the hotel owners know during the booking process.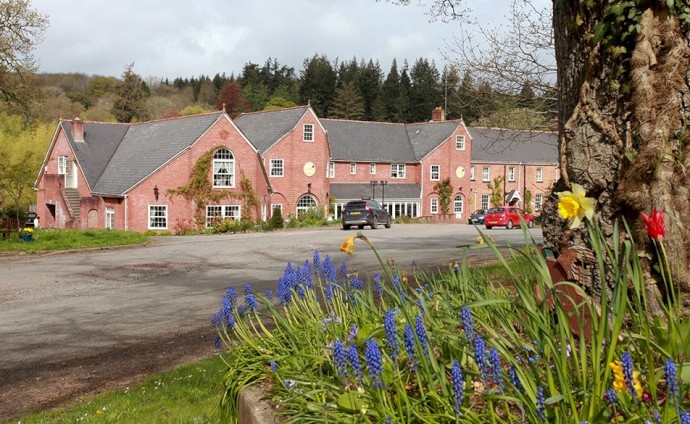 Bayards Cove Inn
Bayards Cove Inn is situated in a historic waterside location in Dartmouth, offering fantastic coastal views and the spectacular surrounding beauty that is Blackpool Sands. It's a small luxury hotel which welcomes dogs in all rooms at an additional cost of £12 per night. Dogs are free to roam in guestrooms and in public areas, as long as they're well-behaved. The hotel really gives dogs the luxury treatment, providing owners with waste-disposal bags, food and water bowls, and a gift basket to make your furry friend feel right at home. Remember to mention that you're travelling with your dog during the booking process.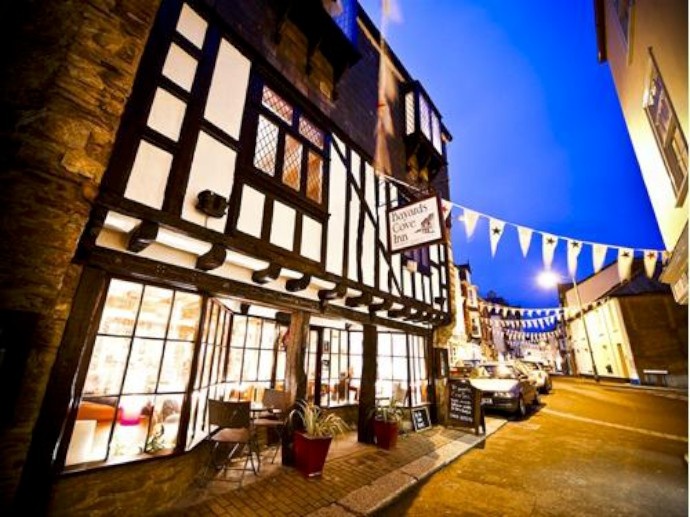 Higher Gitcombe Luxury B&B
Higher Gitcombe Luxury B&B is a luxury five-star boutique hotel in south Devon, close to the River Dart and Dartmouth. This country house is definitely a luxury dog-friendly retreat, with a spacious garden and sprawling surrounding landscape being perfect for children and dogs to enjoy. Hotels really don't get any more dog-friendly than Higher Gitcombe Luxury B&B, which provides specific rooms on the ground floor that are fully tiled and prepared to host your furry friend. The property allows one dog per room and provides a comfy place for them to sleep at a reasonable fee of just £l0. Only well-behaved and clean dogs are allowed and you need to notify the owners about your dog at the time of booking.

Kestor Inn, Manaton, Dartmoor, Newton Abbot, Devon
Kestor Inn is a cosy pub in the village of Manaton which warmly welcomes human and dog guests alike. Manaton is a favourite destination for walkers and offers a seemingly endless number of trails beginning at the local church and winding around Widecombe, Hound Tor and Haytor. There's lots of countryside to explore and in the evenings, dogs are welcome to chow down on hearty and delicious food in the pub alongside their owners. Dogs are allowed in all rooms at no additional cost, given that they are clean and well-behaved.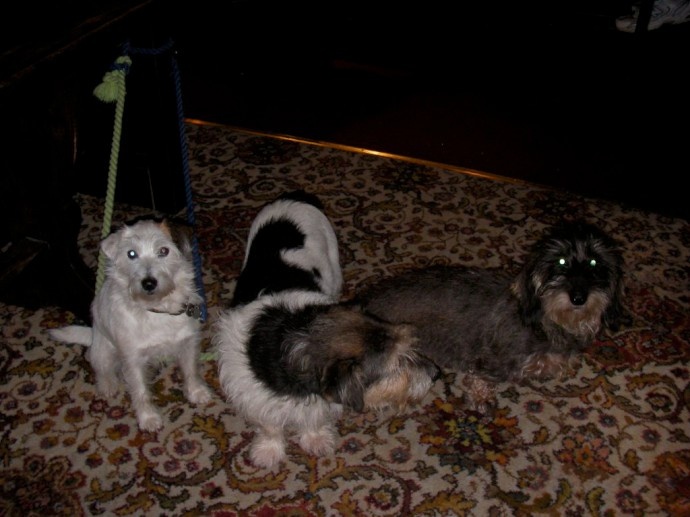 The Salty Monk Bed & Breakfast
The Salty Monk in Sidmouth offers high-quality, individually-designed accommodation at great value-for-money. The owners of the hotel allow dogs in a number of their guestrooms for a reasonable added fee of £20. There are dedicated dog-friendly and dog-free areas inside the hotel, so all guests can be comfortable at all times. Near the hotel there are many great walks, including along the popular south west coastal footpath, which you can spend hours exploring with your canine companion. There's even an outside tap to clean dirty doggie paws and a torch for late night walking supplied. You can also store your dog's dinners in the fridge and request the hotel can supply a gourmet doggie menu, as well as a water bowl, maps, doggie treats and a plush fleece bed, upon request. Remember that you need to mention that you're bringing your dog with you when you book.

Fairway Lodge
Α really great place for your next holiday in Devon, Fairway Lodge is the ideal base from which you can explore the Dartmoor National Park, the north Devon coast and the surrounding countryside. Up to two clean and well-behaved dogs can be accommodated in each lodge room, all of which feature small entrance areas leading out to the courtyard. There is a small extra charge as well as a fully-refundable deposit of £15 to guard against accidental doggy damages.

Garfield House
Garfield House, a unique country house retreat that offers luxury en-suite accommodation in South Brent, Devon, also welcomes well-behaved dogs. Here your furry friends will find plenty of room to run about and there are many walks in fields, woods and moors right on the doorstep. The owners accept dogs in all areas and you don't have to keep them on their leads – either in rooms or in public areas. However, dogs must be kept off the furniture and off the beds. Dog leashes and water bowls can also be provided, upon request. It's important that you mention that you're bringing your dog with you at the time of booking, to ensure that everything will be prepared for your visit upon your arrival. If you'd rather stay at the Shepherd's Hut, you can get in touch with the owners of Garfield House to arrange it.

The Three Crowns
The Three Crowns Inn sits in the heart of the vibrant town of Chagford and warmly welcomes well-behaved dogs in selected rooms and in the bar area. Dog-friendly rooms come complete with their own food bowl and dog bed. However, if your dog is on the large side, it's a good idea to bring your dog's bed from home, just in case. The hotel charges an extra £10 a night for the use of their pet-friendly rooms to cover the extra cleaning. Dogs don't have to be kept on a lead in the rooms, but the use of leads is obligatory in the hotel's public areas. What's more, the dogs are not allowed to be washed in the guestroom baths and they can't be left unattended in the rooms for any length of time. It's also important that you let the owners know that you're bringing your dog with you at the time of booking.

For more information about these 15 dog-friendly hotels or if you'd like to check out the other hotels on offer, visit our page for dog friendly hotels in Devon.