77 dog-friendly hotels in Spain and Portugal with leash-free play areas
September 7, 2018 by Travelmyth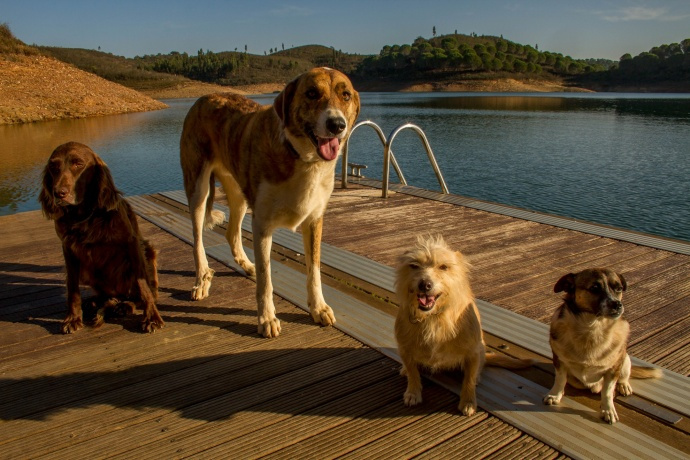 Photo from Paradise in Portugal
Most of us love going abroad on holidays; it is something that we look forward to and can often spend months planning. Sometimes, when you have a dog, planning your vacation can be quite stressful. You want to bring your canine friend along with you, but not many places allow them or let them play on their grounds and have fun. This often poses a problem because you don't want your dog to be miserable while you're enjoying yourself. To save you precious time, we have put together a list of hotels in Spain and Portugal that have leash-free play areas and will let your dog have as much fun on holidays as you will!
Estalagem Da Ponta Do Sol
The Estalagem da Ponta do Sol is a beautiful hotel set on the cliffs in the village of Ponta do Sol in Madeira, Portugal, with spectacular views overlooking the sea. Its contemporary design and minimal decor create an idyllic setting to relax and escape from your day to day life and what is even better is that you can take your dog with you. It is in the hotel's policy that you have to notify them if you intend to bring a dog with you, but they will provide cosy blankets for them on arrival. As is the case with most hotels, your dog must be clean, friendly and must not bathe in the hotel bath. You are also responsible for any damage caused by the dog.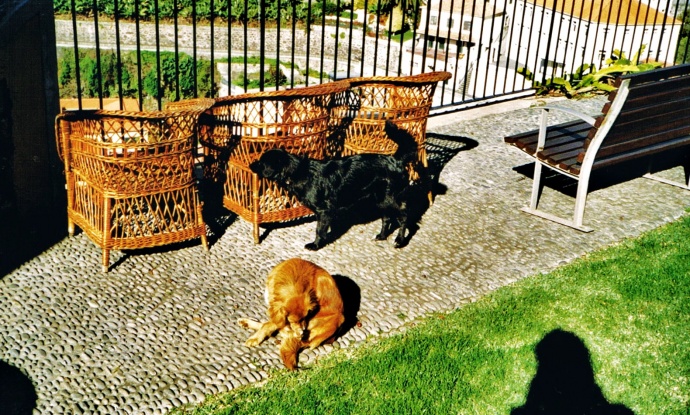 Hostal de la Gavina GL - The Leading Hotels of the World
The Hostal de la Gavina in Castell-Platja d'Aro (S'Agaro) is set in the popular Spanish destination of Costa Brava. With its boutique and uniquely decorated rooms, it's immediately set apart from the usual Spanish retreats. Indulge in the hotel's spa facilities or partake in recreational activities such as tennis on their tennis courts. There is an additional €35 charge to bring your dog along (only one dog per room), but it is certain they will have plenty of places to explore in the courtyard and grounds of the Hostal. The Hostal is also only a short trip away from Platja d'Aro Beach and Cala Bella Dona where you can relax on the beach, stroll around and experience the delicious food the area has to offer.

Paradise in Portugal
Surrounded by beautiful countryside, this Portuguese hotel is set beside a breathtaking lake and is encompassed by wildlife. This dreamy hotel will be your new favourite getaway. Barragem de Santa Clara is only a short journey away you will never be short of activities to do and shops and restaurants to wander around. This hotel allows 2 dogs per room with the usual cleanliness and behaviour requirements. The downside is that on the resort, dogs have to use the designated areas, but since it is set in the countryside, this shouldn't be a problem.

Casa do Moleiro
In Cinfães, Portugal, on the slopes of the beautiful Montemuro Mountain is Casa do Moleiro. A rustic house with a modern twist and surrounding villas, all featuring panoramic views of Bestança Valley and Carrapatelo Lagoon by the Douro River. The amenities include a swimming pool, seating areas and children's play area. Alongside this, dogs are allowed at the resort for free, but you will need to notify them before your arrival. They also provide towels, blankets and a sitter for your canine pals if you want to leave the resort without them.

Marakasa B&B
If quaint and traditional style getaways are your thing, then Marakasa B&B is the one for you. Set in a 17th-century village house in the town of San Antonio de Calonge, it exudes character and charm, something different from the modern hotel complex. Well-behaved and clean dogs are allowed to wander around as they please in this homely accommodation with a shared terrace for you and them to bask in the sun and enjoy time with other like-minded guests. You can also wander along to the nine kilometers of beaches, fish markets and local eateries amongst other activities that the owners will gladly advise you on.

Casa Das Palmeiras-Pedagogic Farm
Farm stays are very popular right now and Casa Das Palmeiras is exactly that. Guests can interact with the animals, wander the grounds and take in the spectacular country surroundings. There is also a seasonal on-site biological pool for you to enjoy. Within the hotel there are 3 houses and a suite available, while all stays contain a freshly prepared breakfast using local and seasonal products. As with many places, there is an extra charge of €10 per night to bring your dog with you, but a farm is one of the ideal places to go on holiday with your dog, letting them interact with other animals and play on the vast land.

Quinta Do Cano
Located in Evora, Portugal, Quinta Do Cano contains several secluded terraces, a pool and 7 hectares of land complete with animals and vegetation, perfect for relaxing in the afternoon sun. The animals on site include 5 well-behaved dogs, two pigs and donkeys that roam free on the land. As for your dog, an extra €2.50 a night will allow them to stay and enjoy the leash-free areas with you. You must be able to provide the owners with a copy of their vaccinations for safety reasons.

Casa La Bombaron
At the starting point of many beautiful hikes lies Casa La Bombaron, Andalusia, a small Bed and Breakfast and an apartment that accommodates up to 10 people. The white village of Mecina Bombarón is picture-worthy and traditional, away from the tourist culture and delving into the culture of Spain. If you like to spend your holidays somewhere off the beaten track then this is a place to seriously consider. There is no extra charge for you to bring your dog and it's the perfect location for long hikes taking in the beautiful surroundings.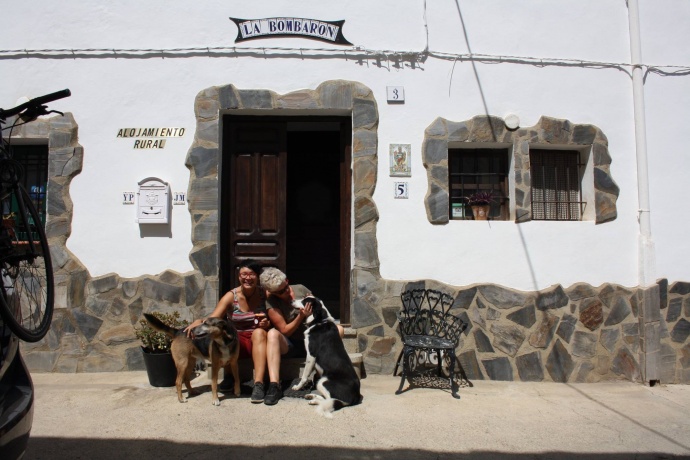 Hotel Mas de la Costa ****
Home of fine dining and beautiful architecture and bordering Catalonia, Mas de la Costa is in the heart of the Matarraña region. This hotel is completely environmentally friendly and off the grid. There is a variety of gardens to explore, a pool to lounge by, a small spa to relax and a library to educate yourself in. Your dog can be brought along to enjoy the experience with you, although this is for an extra charge. There is a variety of walks of all levels in the surrounding area, meaning your canine will never be bored.

Hotel Rural Bioclimático Sabinares del Arlanza
Being Eco-friendly is key in the modern climate and so it's at the forefront of many people's minds. Hotel Rural Bioclimático Sabinares del Arlanza in Burgos, Spain, certainly meets this criterion. Set on a farm, with the option to enjoy healthy, sustainable meals as well as get immersed in the rural life, this hotel is a stark contrast from the booming all-inclusive style holiday resorts. You will never be bored as there is the option to learn all about the agrotourism project and the opportunity for your children and you to get involved with the day to day running of the farm. There is an extra €10 charge for bringing your pet per booking but the location is every animal's dream.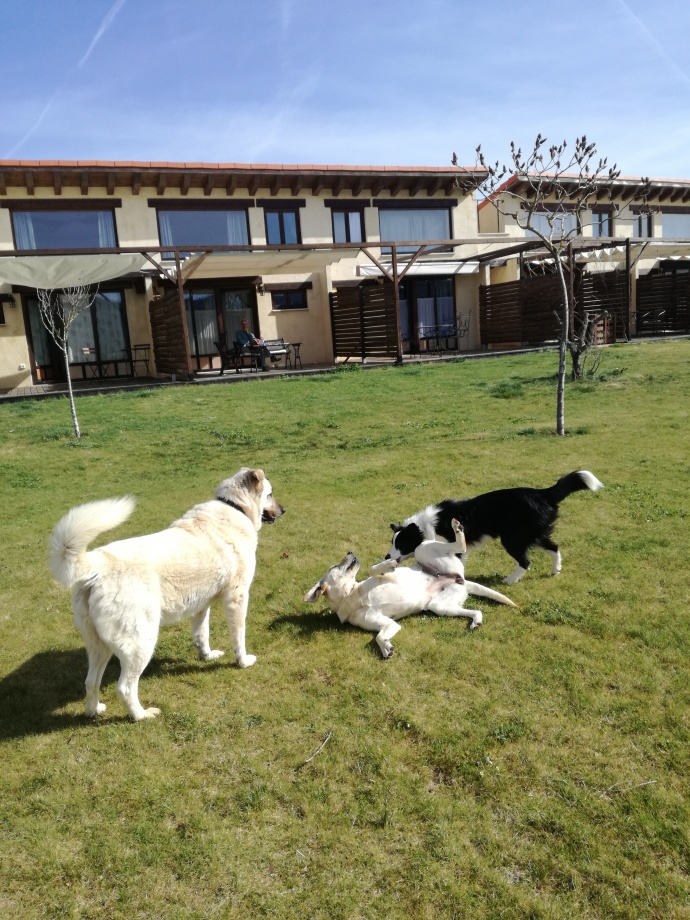 Feeling relieved and holiday stress-free? Found your ideal location? There are so many fantastic dog-friendly places to choose from, these are just a few of our favourites. For more ideas we have a filter for "dog-friendly hotels with leash-free play areas" in our search engine.

View all hotels with leash-off play areas for dogs in Spain >>
View all hotels with leash-off play areas for dogs in Portugal >>